Pangaea, a musical trio based in New Delhi India, will be visiting New Zealand for a nine-date tour during August.
Pangaea performs an exciting mixture of Indian Hindustani and Western classical music within contemporary original compositions, combining the classical guitar and voice with the complex rhythms, scales, and improvisation of Indian classical music to produce a unique style of fusion.
The trio comprises of two of India's most exciting young Hindustani classical musicians, Saptak Sharma (Tabla) and Mayank Raina (Sitar and Flutes) and New Zealand musician and composer Mike Hogan (Guitar and vocals). All three have gained a high level of recognition individually in their respective fields. Read more below!
The three musicians first met in New Delhi in October 2017 and very quickly developed a rapport. The continued development of their sound led composer Mike Hogan to create a body of new songs which they began performing at festivals, private functions, and local venues in and around Delhi. The group has received a large amount of positive feedback and encouragement from these public performances, most especially from the close knit musical community in New Delhi, which has been very excited with the potential for this kind of fusion to help develop the musical horizons of young performers and help bring further understanding of the beauty of these respective traditions to the public.
Pangaea is now ready to record, with enough material for a full-length album. The purchase of some cheap flight tickets to Wellington led to the formulation of a nine date New Zealand tour which will begin and end with recording dates at two of the county's top studios, The Surgery in Wellington,
and here at Orange Studios in Christchurch. The group will also visit some of the top music learning facilities in the country to present workshops and meet their students.
Tickets $20 General Admission $10 Concession/Student
---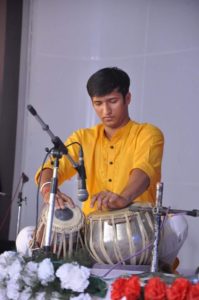 Saptak is one of the leading young tabla players in India. He began learning tabla at the age of 4 and for the last 10 years has been under the tutelage of the legendary Ustad Akram Khan from the Ajrada Gharana school in New Delhi.
Saptak has been lucky enough to perform with all three generations of Ajrada Gharana including Ustad Hashmat Ali Khan, Ustad Akram Khan and Zargham Akram Khan and has toured extensively with many different acts, performing across the country and globally.
Eminent artists like Pandit Anindo Chatterjee, Pandit Kumar Bose, Ustad Shahid Parvez Khan have provided him with their praise, blessings and guidance, and he received the Uttar Pradesh Sangeet Natak Academy Award in 2014 from Chief minister Mr Akhilesh Yadav ji.
Saptak has performed at various international conferences in country and abroad such as the conference for Buddhist relationship between Sri Lanka and China, Youth Festival in Delhi, Singapore cultural conference and the Ustad Bismillah Khan Festival. He has toured extensively across India and abroad conducting music workshops and performing across various musical genres with popular bands and as a classical musician.
---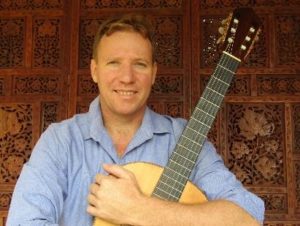 Mike is a New Zealand musician \ composer currently residing in New Delhi India.
Mike has mastered a wide range of styles, from Classical and Latin through to Jazz, Rock, and Folk music. He has an Honors Degree (first class) in composition as well as a Bachelor of Music in performance Classical guitar at the NZ School of Music.
Mike's classical compositions for guitar have been recorded and performed internationally by artists such as:
Christopher Hill, Matthew Marshall, 
As a singer songwriter, Mike performs as a solo artist playing classical guitar repertoire as well as his own original compositions.
Mike has been a member of many bands such as YoungLife Vanuatu, Jhan Lindsay and the Chatelains, Sven Olsens Brutal Canadian Love Saga, TAHU
Mike is also a prize-winning music and video producer, having won the 2011 Fair Play Youth Voices competition.
---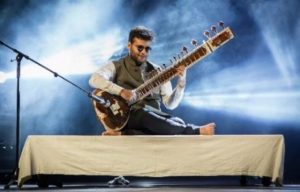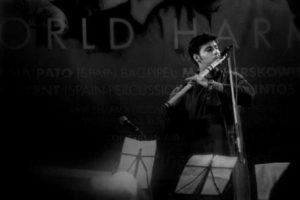 Mayank began his musical education at the age of 4 and was lauded by music critics as a child prodigy. He was initially taught by his Grand-father pandit Omkar Nath Raina, the most reputed and honored sitarist of the Jammu & Kashmir state, along with his father Shri Sunil Raina who is a senior instructor in the Institute of Music and Fine arts Jammu.
At the age of 10 Mayank won first prize in an instrumental classical music solo competition organized by the J&K Academy of Art Culture and Languages, Jammu, and since then has regularly been winning and receiving numerous prestigious awards such as:
First prize and First position in junior group instrumental music competition held by the J&K Academy of Art Culture and Languages, Jammu, 2005.

First Prize and First Position in the instrumental (senior group) children on the spot music competition held by the J&K Academy of Art Culture and Languages, Jammu 2006.

First position in all India competition of classical instrumental sitar (junior category) held at Jalandhar 2006 by Shri Baba Hari Ballabh Sangeet Pratiyogita.

First position in Bhajan singing competition held by Kendriya Vidyalaya Jammu in 2004,2007 and 2008.
Mayank has performed for many distinguished V.I.P audiences such as Prime Minister Narendra Modi, P.M. Mr. Manmohan Singh & congress president Mrs. Sonia Gandhi, H.E. president of India, Sh. Pranab Mukherjee, H.E. vice president of India & then education minister, Mr Kapil Sibbal.
He has given many recitals abroad in countries like Belgium, Korea, Sri Lanka and Germany.
In Mayank's own words, he is: "Committed to yet harder and harder "riaz" and full devotion to explore the vast and unlimited boundaries of the domain of music in my insatiable quest for learning".