A quick chat with…Amy Grace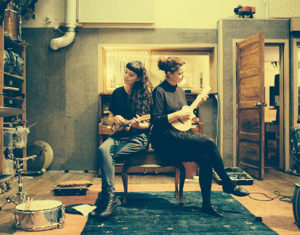 Amy
Grace
is a flawlessly talented singer, songwriter, musician and actress who has been a friend of Orange Studio for over seven years. I caught up with the gracious, gorgeous Miss.
Grace
while she was in the studio to chat about music, story telling and her latest project, 
'The Swan Sisters'
.
Interview by Rachael Lundy
RL: What drew you to a career in performing arts?
AG: I felt the most encouraged by my creative ventures at school. So, when I heard there was a place you could go to get training in dancing, singing and acting, I thought that would be a good place to start. I never imagined it would be my full time career, but I fell in love with storytelling and have spent the last 11 years working on various projects around the world.
AG: Amiria [Grenell] and I met at drama school here in Christchurch. We both went to NASDA and she invited me to come and live with her at Ryan St. Our lives were busy, but we'd always find time to sit under the tree in our garden and play guitar together. Over the years we've sung on each others songs and supported one another like sisters. Our name was inspired by a Julie Doiron lyric " the pond, it seems so quiet tonight and the swans are all huddled together ". I told Amiria that I adored that image and the next day she said " how about we call ourselves The Swan Sisters ".
AG: We both relate to, and feel very inspired by, imagery. Our lyrics take you on a journey, similarly to a play. The melodies become a soundtrack to a memory or a story you might be creating in your head. We are also very aware of the kinds of environments that encapsulate our music. We want people to feel immersed in our storytelling. Amiria has been organizing house concerts for a few years now, and they provide a beautiful backdrop to our songs. Stage presence and a desire to connect with people are two wonderful assets that transfer from the theatre to our music.
RL: You've had a long history of working with Orange studio since your live album, "Backstage", was recorded at The Forge Theatre in 

2010

; how do you feel Orange has evolved over the last few years?
AG: It's exploded in the best possible way! Orange Studio has always been a very ambitious company in my eyes and every time I come back to Christchurch they are doing new and wonderful things.
AG: My Great Grandmother, Violet Godwin. She was a pianist and brought such joy to my family through music. I have her piano. It went from London to South Africa, where I was born, and then came all the way to New Zealand.
You can catch The Swan Sisters playing live at the Sunday Sit Down, Blue Smoke, 26th February: