Five Minutes with Tim Sellars – Jazz, World Music and "The Puzzle"
From musical theatre to jazz, world music to seeing the world…Tim Sellars is one of the most in demand percussionists today, both locally and abroad. Join me as we chat about his band Mukhlisa's debut album, traveling the world, and his secret dreams of being a firefighter.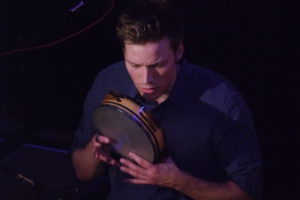 OS: You recently played a sell out concert for the release of Mukhlisa's "The Puzzle" here at Orange; tell me a little bit about the project?
TS: Mukhlisa is a World band based here in Christchurch. It was formed in 2012 after I experimented with some tunes during my Honours study at University of Canterbury. I used to refer to it as a Middle Eastern/Jazz fusion band (due to the percussion instruments I play) but has kind of evolved into a fusion of World music as we began drawing from many different influences. "The Puzzle" is our first album and features myself on percussion (riq, darabuka, frame drum, cajon), Tamara Smith (flute), Michael Story (double bass), and Glen Wagstaff (guitar).
OS: What would you say is Mukhlisa's unique point of view next to other world music sounds?
TS: It would have to be the combination of the instruments we play and the heavy improvisational element. We all come from a strong Jazz background where improvisation is a really important aspect of the music, and, as you probably know, particular Middle Eastern music is classically composed. I think this classical/Jazz crossover gives us quite a unique vibe.
OS: You're a super busy guy, tell me about some of the other projects you do?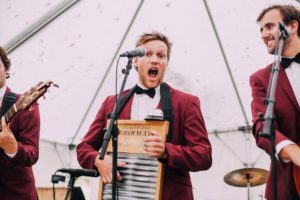 TS: Well most of my other work is free lance; session work, teaching, and things like that. I'm really involved in musical theatre and am lucky enough to work with Showbiz and The Court Theatre on a regular basis! I'm also involved in a Jazz piano trio and
a band called
The Goldonies 
where I sing and play the washboard..crazy instrument!! The band was actually kind of thrown together for a show at The Court [One Man, Two Guvnors] and we just kind of loved the sound and kept going and playing gigs and doing a bunch of cruise ships. So yeah, lots of things, a huge variety.
OS: You've done about two years of cruise ship contracts all over the world; is cruise ship life as glamorous as people assume it to be?
TS: Mmmmm yes and no. We live in shoe boxes and there are plenty of rules to keep too. There is definitely life up
there
, and then life down
here
where we are and it's very very different. There are amazing times and it's such an incredible way to see the world and get to play every night. I'm lucky enough to be working shorter contracts now over the weekends which means I can take on the work without having to quit my job all the time, so that's really great!
OS: If music was taken off the table for you, what would you do with yourself instead?
TS: I have actually thought about this a lot and I would probably be, and you're going to laugh, but I would probably be a fire fighter. I like the idea of doing something that helps people.
OS: So, not just to be in the sexy calendar, then? 
TS: Well that's part of it, too. Either a fire fighter, or I would be a physiotherapist.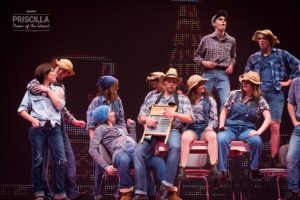 OS: You're house is burning down, everyone is out safely, and you have time to take just one of your possessions before you also have to escape; what do you take?
TS: This is going to sound really sad but probably as many instruments as I can hold on too. They are definitely the most valuable and sentimental objects I have in my life at this point.
You can buy "The Puzzle" right here on the Orange Studios website, or on Bandcamp here.
---