Five Minutes with Kate Taylor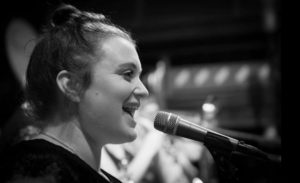 Kate Taylor, singer of jazz, musical theatre, pop and soul, not to mention the odd acting role, has wowed crowds on stage and worked behind the scenes on many projects with Orange and on her own steam. Charlotte caught up with band mate and friend of the studio about her influences, experiences and hopes for the arts in Christchurch.
OS: Who was your biggest musical influence growing up?
KT: I have a very musical family and when I was younger would always sing along with my Mum. My Granddad, Doug Kelly, is well known in the Christchurch jazz scene, so there was a natural musical influence with him. I grew up listening to lots of pop music, I'm a sucker for a good pop hit, but as I got more into jazz Natalie Cole and Tierney Sutton were my biggest inspiration. I then found a love of mashing pop and jazz together with the likes of Jamie Cullum and Post Modern Jukebox.
OS: You shot a music video in Hong Kong! Tell me a bit about that. What was the most valuable learning curve you took from it?
KT: It was such a crazy, amazing experience! My friend Nicholas Beckwith set me up with a videographer when I was in Hong Kong in 2015. We travelled through the main centre of the city hitting up famous hot spots and filming some great shots under the lights of some famous streets, as well as well known tourist locations. We did the whole shoot in one night and we got to see some amazing sights along the way. I feel very thankful to Nick and the team as I got to document my holiday in a really unique way! For the video process itself it's super important to just enjoy the experience and be as natural as you can be. We were filming in some pretty densely populated areas so if I were to be self conscious we wouldn't have got the shots of the bustling city, which is what we wanted to represent.Kicking off with a concept and trusting your team is super important too. I had heaps of faith in my videographer knowing he was getting some great scenes around me and the song. Oh, and ladies, take flat shoes to walk to the next location if you're in heels for the actual shoot!
OS: What is your all time favourite album/tv show/ film/ play?
KT: I just saw The Curious Incident of the Dog in the Night-time at The Court Theatre and haven't been moved by a play like that ever – it was incredible! However I was lucky enough to see The Color Purple on Broadway this season and it was the most moving piece of theatre I have ever experienced, so that one tops the list. I can't go past Wicked and The Sound of Music as a couple of top favourite musicals though!
I was really influenced by Natalie Cole's 'Unforgettable' album and Tierney Sutton's 'Unsung Heroes'. I love Sara Bareilles, Adele's '25', or any Stevie Wonder – it's too hard to choose!
In the weekends you will most likely catch me watching some Grey's Anatomy or The Mindy Project..I prefer not to think when watching tv, so something ridiculous does the trick!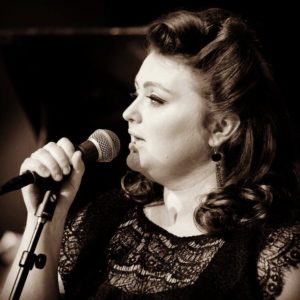 OS: You have lot of projects on the go at the moment :#12 Pianists Project and All Girl Big Band to name a couple. You also teach, both privately and at Ara Music Arts, and you are on some teams behind events such as the Cavell Leitch Jazz & Blues Festival and World Buskers Festival. What are your hopes for the future of Christchurch's arts scene?
KT: I have never been more in love with Christchurch than I am right now. It is such an honour to be able to be a part of the art and music culture here because I truly believe we have some of the best talent in New Zealand and they should be celebrated. Being self motivated to produce different projects to assist in the continuing development of the arts culture is important for me as an artist, but actually getting out there and supporting it is just as important. I believe a lot of people think Christchurch has got quiet since the earthquakes, but as I have watched the city grow and develop I can only see it getting better and better. There are so many amazing musicians, performers, artists and creatives continuously striving to keep Christchurch vibrant and exciting, so supporting them is the first step. There is so much happening if you get out there and get among it.
OS: The best thing about working with Orange is…
KT: EVERYTHING! The quality of the process and product, the facilities and buildings, and the general banter, professionalism, support and good times you get when working with Michael and the team is something truly special.