Five Minutes with Julie Wylie: The Magic of Musical Play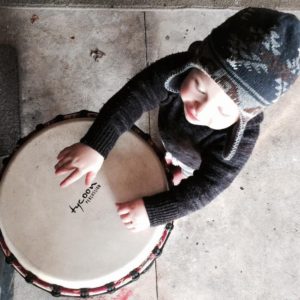 Julie Wylie has been sharing the benefits of musical therapy with new parents for over thirty years. A true master in her field, we managed to catch up with the inspiring leader herself to chat about how it all started, the success of her 'Sing and Play' albums, and what musical play is really all about.
OS: Julie, you have been doing musical parenting classes for parents and babies for a number of years now (over 30!). Tell us a bit about how that all started.
JW: I started my classes because, while working as a high school teacher, I found that many students struggled to maintain a steady beat or sing in tune. I quickly realised that the time to start musical training is at birth. So I trained with international music therapists Clive and Carol Robbins from Nordoff Robbins Music Therapy and I began to see how I could link elements of music therapy and education in my musical play classes. The children inspire me to make up narrative songs that illustrate what the child is doing moment by moment. And this is what I have been doing ever since. Music is my life and my passion. Children inspire me every day. I have the most amazing faith, family, colleagues and friends who support me and who delight in joining me in my constant musical play adventures.
OS: You've taught in pre-schools, schools, music associations and lectured at universities about music and education. How does music and education compliment each other?
JW: Blending aspects of music therapy and music education helps to develop that critical parent-child bonding that underpins all the child's learning in their early years. Parents can use the musical play ideas in their interactions and daily routines with their children at home. This is also crucial for laying the foundation of music for life. My book "Music, Learning and Your Child" was based on the premise that music and education are inextricably linked; music is a child's first language, so it's vital we use music in a child's early and developing life to enhance their physical, emotional and social education.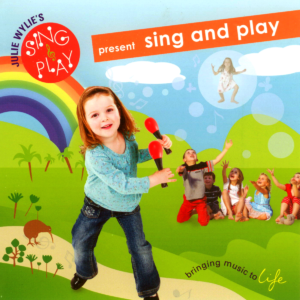 OS: Your "Sing and Play" albums are very popular with parents and teachers. What is the key to their success, do you think?  
JW: Because the songs are paced and pitched to the needs of the child. They help the parent support the child to learn about themselves and their environment including social interactions and language. They provide a fun, stress free, supported learning environment that all parents can access.
OS: You've worked with Orange Studios for about 18 years now. What do you like about the studio that keeps you coming back?
JW: My CDs became so popular all over the world that I needed the best possible recording studio. Having worked closely with Tim, Judith and Michael Bell on my recordings for so long, I was excited when Michael established Orange Studios. Michael Bell and his team are a delight to work with. Their innate musicality and highest recording standards help to set my music CDs apart. I have had many comments both here and overseas about the wonderful arrangements, instrumentation and highest recording quality. I believe that children and their parents need the highest possible musical standard of arrangements and recordings in order to bring out the expressive simplicity of the melodies, the musical complexity of the rhythms, harmonies and instrumentation.
OS: Already this year you have been the guest speaker at the Music Teachers Association Conference, started your classes back up and presented workshops in China and Sydney this year. Is there anything else you have happening in 2017?
JW: Yes – I have recently established a post graduate online training course in Musical Play and Play Therapy in conjunction with wonderful Play Therapist, Alex Gosteva. I am also currently working on a major film project with Dr. Susan Foster-Cohen about my music philosophy and work with children and their families at the Champion Centre. It's so exciting!  
Readers can find more about Julie and her work on her website or follow her on Facebook here.