Five Minutes with Ariana Tikao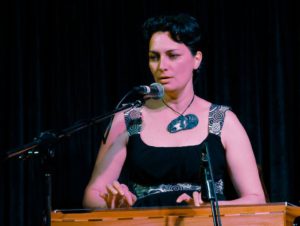 Ariana Tikao is a leading performer, combining traditional Māori instruments in her compositions with musical groups from celtic groups like Emeralds and Greenstone to full blown orchestras.
OS: How do you feel contemporary Maori music has developed in the last few decades?
AT: I believe the introduction of taonga puoro has been one of the biggest and most important developments. Also there is huge variety of musical styles now within Māori music.
OS: Who/What's your favourite musician to listen for as inspiration?
AT: One of my early influences was Mahinaarangi Tocker, particularly her Clothesline Conversation album, that had many songs that were quite political but told in a personal way. She had such an incredible voice too. I listen to a lot of singer-songwriters, and love the music of groups such as French for Rabbits these days.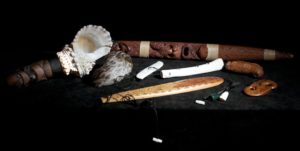 OS: Hardest or most challenging traditional instrument to play and why?
That's a tricky one. I have quite a collection of taonga puoro, including: hue, pūtōrino, pūrerehua, kōauau, nguru, tumutumu, poāngihu, pāhū pounamu etc. I have a really nice guitar that I love, but I can really only play a few basic chords. If I write with guitar the songs only have 1-3 chords. Some Māori instruments can be challenging to play, but mostly just because each instrument is unique and so you need to get to know each one as an individual. That is one of the lovely things about them, they demand time and respect, like any good relationship!
OS: Tell us a bit about your time as Musician in Residence at the Centre for New Zealand Studies, at the University of London. How long was your stay and what was the best thing you got from that experience?
That was only for a few weeks, back in 2008 so going back a while now! I performed at a fundraiser for the Centre and also played at NZ House. I got to meet some NZ musicians based over there as well as the Ngāti Rānana kapa haka group which was great. So the highlight was definitely the people I met.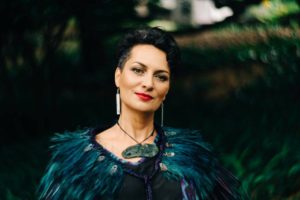 OS: If you had to give up music/performing what would you do?
Probably just more of what I do outside of music, ie. I am the mother of Matahana and Tama-te-ra (both teens now), I am an archivist at the Alexander Turnbull Library (working with unpublished Māori collections), and sometimes  I curate exhibitions, and write stories and poems
OS: Is there anything you would've liked to have been told when you were at high school age about the industry, or any words of wisdom/encouragement for young musicians?
I wished that I continued on with learning piano at High School. I reckon it is a good idea to learn as much as you can while you are younger as it ends up giving you more to select from in your musical 'toolbox'. Also to be able to read music, and sight-read would have been a handy skill for me now. But I am pretty sketchy in that area.
In saying all of that though, I basically have got quite far with not having those skills, but just creating the music I want to create, and working with some great people along the way to support me to do that. It is important to use your intuition and stay true to what it is that you want to express as an artist.